PRODUCTS
Thermoset Composite Materials
Thermoset Composite Materials
Thermoset prepregs are synthetic polymer-reinforced fibers pre-impregnated with high-grade resins. When heated, these materials become exceptionally strong and durable, but remain extremely lightweight compared to traditional metallic solutions.
Utilizing a broad combination of advanced fibers and resins, our materials are valued for their superior strength, inherent lightweight properties, high impact-resistance and cost-effectiveness.
Our thermoset prepregs are produced in Japan, US, Italy, and UK, ensuring a stable supply and responsive deliveries based on local operations. The below chart shows examples of our product types in each application and category. Torayca™ thermoset prepregs manufactured by Toray Industries (Japan) and Toray Composite Materials America (US) are proven materials in multiple applications, including aircraft primary structures, automotive parts, and a wide range of sporting goods. Delta-Preg (Italy) and Composite Materials (Italy) have a high reputation in F1 & motor sport, automotive, interior, marine, sports & leisure, and medical applications, providing technical support and the best solution for each customer. Thermoset prepregs produced by Toray Advanced Composites (US & UK) are used successfully in aerospace, engine, satellite & launch vehicle, radome, tooling, high performance industrial, and recreational markets, offering multiple resin options including epoxy, BMI, cyanate ester, and polyimide.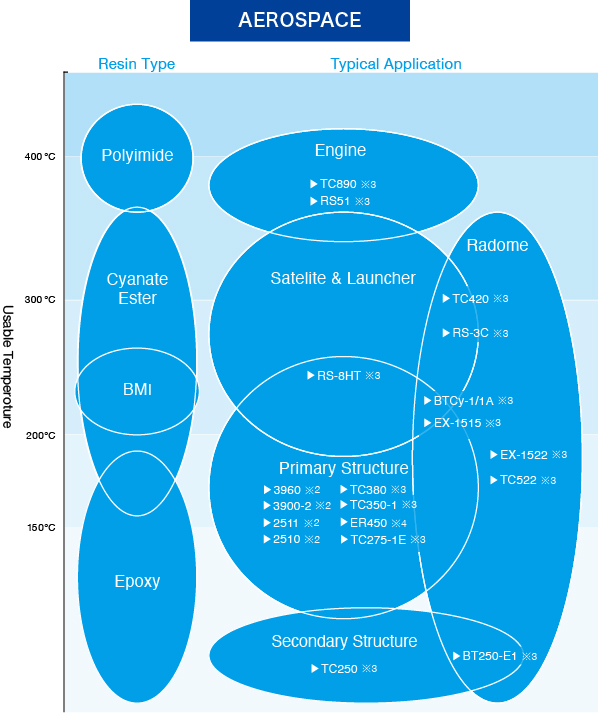 Lineup
Why TORAY Materials?
Proven Technology
TORAYCA® prepregs are used successfully in multiple applications, including aircraft primary structures, for over 25 years.
Customizable Forms & Flexible Processing
Our thermoset-based materials are compatible with many processing methodologies, including Automated Fiber Placement (AFP), Automated Tape Layup (ATL), compression molding, RTM and hand lay-up including out of autoclave consolidation.
Mechanically Stable
Our prepregs have outlife of up to 40 days, making them ideal for the lay-up of large composite parts
Quality
Our prepregs contain uniform resin content, which together with a no-bleed resin system allows for the formation of predicable thickness across composite parts
Database Availability
Toray maintains several extensive material databases to expedite program development cost effectively.
Carbon fiber products significantly contribute to curbing of global warming in terms of life cycle assessment and Toray also actively participates in programs with customer and research groups to develop new recycling technologies and applications.
Life Cycle AssessmentRecycling