MARKETS
Sporting Goods
Bike
Bike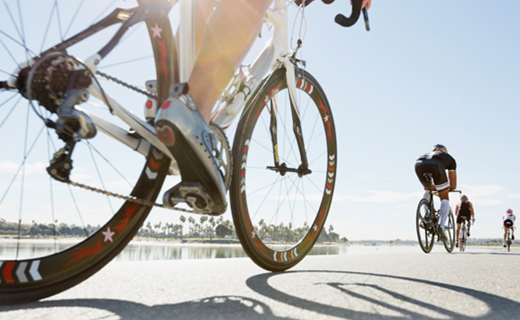 In recent years, while aluminum frames weighing less than 1 kg (2.2 lb) have come onto the scene, with the current influx of 500-g (1.1-lb) bikes, the weight reduction achieved by carbon frames is truly astonishing. Carbon fiber is drawing attention for its bike applications.
With increasing demand in recent years for sports applications, bike applications are showing the largest demand for carbon fiber of all sports, with the exception of golf and fishing. While professional bike road races are popular in Europe, in Japan we have started seeing dedicated road biking and off-road mountain biking in recent years, with "carbon bikes" (bikes made using carbon fiber) now making headlines in Japanese cycling magazines.
A bike consists of a structure including a frame, forks, and handlebars, as well as components that transmit and control motive power, such as wheels, cranksets, gears, speed change gears, brakes, brake levers, etc. In the mid-1980s, TORAYCA™ textiles and prepreg products were first used in front forks by a Taiwanese bike manufacturer, before also appearing in wheel disks and cutting-edge carbon monocoque frames. Thereafter, monocoque bodies reached an impasse due to requiring large-scale facilities to accommodate molds the size of the frames. However, with the development of frames in which carbon pipes (eight pipes making up the front and rear frames, also called "tubes") were made by utilizing pipe-molding technology using the unidirectional prepreg and textile prepreg developed for golf club shafts, fishing rods, and rackets, and then connected together using lugs (coupling joints), they started being used in mountain bikes and road bikes all over the world. With the application of carbon prepreg in other components such as wheel rims and cranksets, and with further advances made in design and molding technology, carbon monocoque frames became the standard, contributing to improving the lightness, rigidity, and durability of bikes.
Toray offers an industry-leading lineup of carbon fibers to meet its customers' wide range of needs, from the de-facto standard TORAYCA™ T700S to the state-of-the-art TORAYCA™ T1100G and M40X that offer both high strength and high modulus of elasticity. However, composite product performance is not just determined by carbon fiber. Toray has been researching and developing not only carbon fiber, but also resins that have a profound impact on composite characteristics. Toray has improved frame strength and reduced weight through creating the resin applying nano-level material control technology called NANOALLOY™. These cutting-edge materials from Toray are used in many of the bikes used by top pros in the Tour de France.
Recently, power-assisted bikes have emerged, called "E-bikes." E-bikes lead to reduced environmental impacts as they do not produce exhaust emissions, and can also alleviate congestion. This is why an increasing number of people are switching from cars and public transport to E-bikes, particularly in Europe and North America. The popularity of E-bikes is also helping to improve quality of life for all kinds of people, from children to senior citizens, as they can be used not only in the cities, but also for cycling off-road in the mountains, which usually takes its toll on riders. TORAYCA™ also has its part to play in making these E-bikes lighter. Reducing the weight of the frame reduces the load on the battery, which enables the cruising range to be increased, or the battery to be made smaller.
Toray is helping to further evolve competitive biking and support new lifestyle changes through its vast line-up of material products.
Why TORAY Materials?
Toray has a broad range of composite material solutions to suit a diverse range of requirements within the bike market.
Lightweight
With Toray's new high-strength and high-modulus carbon fibers TORAYCA™ T1100G, M40X, and high-performance prepreg using new NANOALLOY™ technology, Toray's innovative technologies contribute to pushing the limits of weight reduction.
Sizeable Carbon Fiber Line-Up
With an industry-leading vast product line-up in terms of mechanical properties and number of filaments, etc., Toray is able to meet customers' needs through its high performance, high quality, and stable supply.
NANOALLOY™ Technology
Toray's high-performance resin with improved dynamic properties using nano-level material control technology. The combination of the resin applying nano-level material control technology called NANOALLOY™ and TORAYCA™ carbon fibers achieves improved frame strength and reduced weight.
Diverse Resin Line-Up
Not only does the resin matrix (epoxy resin) used in TORAYCA™ prepreg harness the full performance of carbon fibers, Toray also has a varied product line-up that includes the resin applying nano-level material control technology called NANOALLOY™ with improved dynamic properties, quick-curing resin that improves press-curing production efficiency, high-heat-resistance resin, vibration-absorbing resin, and impact-resistant resin.
NANOALLOY™ technology is an innovative microstructure control technology. We own the basic patent, core process patents and utility patents.
Toray Composite Materials for Bikes
Related links of Toray group company (External Pages)