Urban Air Mobility (UAM)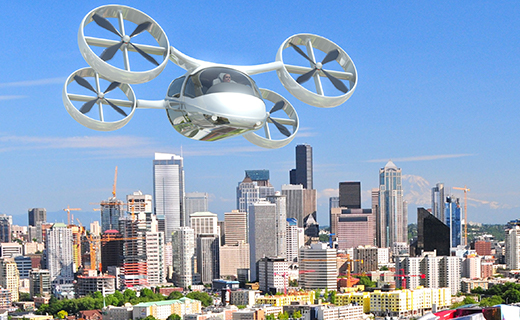 Lightweight to Elevate
Materials of tomorrow, available today. Strong, lightweight and scalable from prototype to mass production, advanced composite materials are the future of urban air mobility.
For almost 100 years, we have led carbon fiber composite innovation and performance, delivering advanced material solutions that enable the next generation of transportation. With proven and trusted performance in aerospace and automotive markets, our portfolio of composite material solutions delivers for nearly any structural application imaginable, ensuring lightweight, durable and reliable final products.
We aim to help resolve urban environmental issues, traffic congestion, noise and air pollution, by developing materials that cater to the unique challenges of air vehicles.
Why TORAY Materials?
Our material solutions for UAM offer benefits including database availability, light weights and design freedom.
Database Availability
Our 2510 epoxy prepreg system has been registered in public materials database since 1998 via the Advanced General Aviation Technology Experiments (AGATE) methodology.
Our 3900 epoxy prepreg system also will be listed in Composite Materials Handbook-17 (CMH‐17 ) in 2021.
These database availabilities help your development and use of composite materials and structures, saving both development lead time and cost.
Lightweight
Due to the weight of battery and power systems on most UAM platforms, the inherent lightweight properties of carbon fiber composite materials are critical to the success of urban air transportation.
Strong and Durable
Our standard, intermediate and high-modulus carbon fibers and our wide range of prepregs are engineered to meet the strength requirements of any urban air mobility vehicle application.
Versatile Processing / Design Freedom
Due to the breadth of composite material formats available, our materials can be processed using a diverse range of processing methods. This allows engineers the freedom to adopt the right material for the right part, at the right value.
Sound Dampening
Our composite materials absorb and dampen acoustic waves by minimizing material vibration. This provides a quieter and more enjoyable cabin experience while minimizing the aircraft's sound impact on the environment.
Toray Composite Materials for Urban Air Mobility
Related links of Toray group company (External Pages)