Trains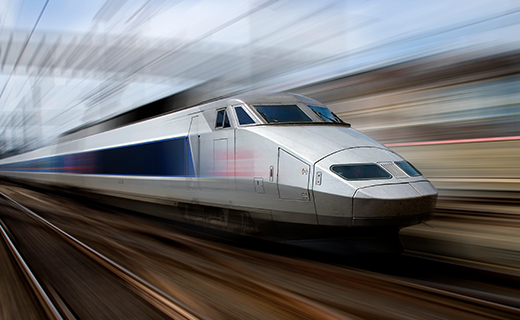 Innovative Materials for Train Interiors & Exteriors
Our experience can support customers looking to improve manufacturing productivity while decreasing energy consumption through lighter and stronger carbon composites.
To achieve fire safety requirements, we have developed fire retardant products which comply with EN45545-2, the European Railway Standard. We are making the future of the train interiors and exteriors market cleaner than ever.
Suitable for high volume manufacturing, across applications from seat structures to interior and exterior panels and flooring, our thermoset and thermoplastic composites are reinforced with glass or carbon fibers and provide the results you need for your application.
Why TORAY Materials?
We offer a broad range of composite material solutions to suit a diverse range of requirements within train-related applications.
Low Fire, Smoke, Toxicity (FST)
Our thermoset and thermoplastic composites comply with EN45545-2, enabling a wider choice of decorative finishes for any application.
High-Quality Surface Finishes
Cetex® thermoplastics deliver perfect surface finishes straight from the mold, eliminating costly and dirty fillers and sanding processes.
Deltapreg's fire-retardant resin portfolio includes FR resins for cosmetic applications.
Short Cycle Times
Cetex® reinforced thermoplastic laminates are oriented to your required specifications, and can be press-formed in minutes and overmolded for one-shot processing.
Deltapreg's FR prepregs feature a unique level of drapability and easy handling, reducing lamination time.
Toray Composite Materials for Trains
Related links of Toray group company (External Pages)