Automotive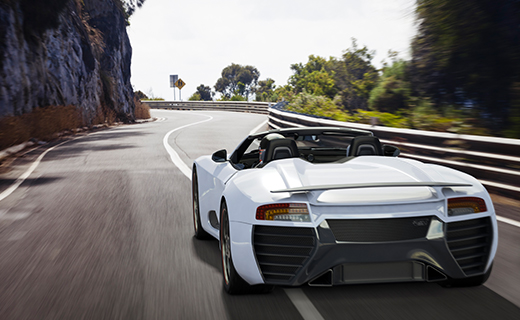 Putting the Wheels in Motion
Whether it be high-performance supercars or serial production vehicles, Toray's fully integrated supply chain has the solution to bring your automotive program to new heights.
Our capabilities span design support and prototyping, simulation and design optimization, through to material development, material supply and part production. We work in close partnership with our customers to enable the automotive industry to reduce vehicle weight while also supporting the next generation of electric and fuel cell vehicles.
Our comprehensive portfolio of thermoset-based prepregs are trusted in the most demanding environments, offering unrivaled performance in high temperature, structural and cosmetic applications.
Why TORAY Materials?
We have a broad range of composite material solutions to suit a diverse range of requirements within the automotive industry.
High Temperature Resistant
Operating at temperatures usually expected in Formula 1 race cars and aircraft engines, high-performance cars demand the best of composite materials. Our ultra-high temperature materials are designed to withstand thermal cycling while also withstanding mechanical loading.
Impact Resistant
Strong, durable and impact resistant, our prepreg systems stand up to the toughest automotive crash standards, helping ensure safety.
Cosmetic Clarity
A great appearance is achieved through close control of quality, superior materials and optimized chemistry. Our matrix resins are designed to minimize the damaging effects of UV and provide an impressive, long-lasting finish.
Quick Curing
Our prepreg systems enable automotive components to be press-cured quickly.
Toray Composite Materials for High Performance Automotive
Related links of Toray group company (External Pages)