Interior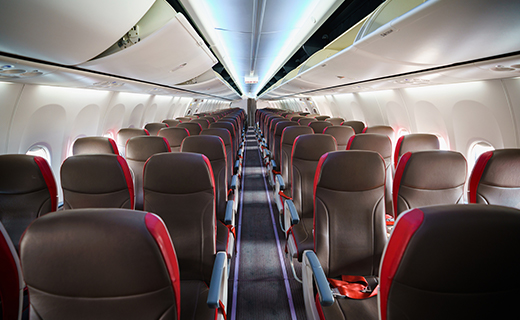 Innovative Materials for Aircraft Interiors
We are changing the future of the aerospace interiors industry. Our suite of lightweight thermoplastic and thermoset products are designed to meet highly demanding applications inside an aircraft while contributing to an aesthetically pleasing and comfortable atmosphere.
Why TORAY Materials?
Our aircraft interior material solutions offer exceptional processing, design and cosmetic benefits.
Low Fire, Smoke, Toxicity (FST)
Our materials offer best-in-class FST & OSU properties (OSU < 25/25), enabling a wider choice of decorative finishes for any application.
High-Quality Surface Finishes
Our materials deliver perfect surface finishes straight from the mold, eliminating costly and dirty fillers and sanding processes.
Short Cycle Times
Cetex® reinforced thermoplastic laminates are oriented to your required specifications, and can be press-formed in minutes and overmolded for one-shot processing.
Color Decoration
Save time and weight. Our materials can be pigmented to a range of colors, to either completely eliminate the need for paint or to reduce the volume required to achieve visual quality.
Toray Composite Materials for Interiors
Related links of Toray group company (External Pages)