Engine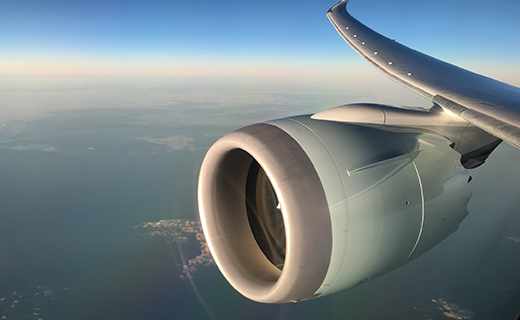 Advanced Composites for Engine Performance
Lightweight and exceptionally durable with superior mechanical performance, carbon fiber composite materials are driving today's engine system innovation. We are a recognized leader in carbon fiber technologies and are driving the adoption of composite materials in the engine systems of tomorrow. Our carbon fiber composite materials are ideally suited for a range of engine systems applications that significantly reduce weight, from fan blades and guide vanes to engine fan containment casings, nose cones, nacelle inlets, fan cowls and thrust reversers.
Our TORAYCA™ carbon fibers are the established choice for aerospace and defense high-performance engine platforms. When combined with our high temperature specialty thermoset prepregs, high performance out-of-autoclave prepregs and advanced thermoplastic composite materials, our materials support designs for nearly any engine component imaginable.
Why TORAY Materials?
Our material solutions for engines offer high temperature performance and many processing and lightweighting benefits.
High Temperature Performance
Our specialty polyimide prepregs make ultra-high temperature performance possible. Thermally stable in extreme temperature environments, these materials effectively replace titanium, offering significant weight savings and enhancing engine performance.
Short Cycle Times
Our carbon fibers and unidirectional preimpregnated tapes feature rapid processing, enabling the short cycle times required for cost-effective high-volume parts manufacturing.
Out-of-Autoclave Processable
Vacuum-bag-only processable epoxy and cyanate ester systems allow designers to develop cost-effective large structures. Our thermoset systems are formulated to allow air to escape while curing under vacuum-only pressure, ensuring a low void structure for maximum strength and durability.
Impact Resistance / Fracture Toughness / Resists Microcracking
Our composite materials are exceptionally robust, making them extremely resistant to high impact damage and microcracking.
Lightweight
Carbon fiber composite materials' inherent lightweight properties support efficient engine performance by minimizing engine component load.
Toray Composite Materials for Engine
Related links of Toray group company (External Pages)