MARKETS
Sporting Goods
Others
Others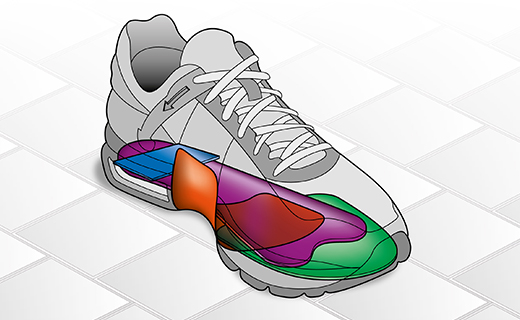 Improve Your Game
In sports and recreation, performance is king. Extra weight limits even the best of athletes. Our lightweight performance composites let you make the most of your products to appeal to customer performance demands.
Available in thermoset and thermoplastic technologies, our products perform across a broad range of specialized sporting applications, from boat paddles to high-end athletic footwear and insoles.
Footwear
More than 100 million pairs of high-end athletic shoes around the world share a performance enhancer: our CFRT™ (continuous fiber reinforced thermoplastic) composite materials. Strategically utilized to enhance footwear performance for more than 25 years, our CFRT™ composites deliver reduced weight while increasing biomechanical stability. The result is an athletic shoe that complements an athlete's strength and enhances performance.
Tunable to specific flexibility needs, our CFRT™ composite materials are ideal for footwear engineering, allowing designers to tailor the range of foot motion through fiber replacement, resin selection and component design. Similar to a continuous bridge, our CFRT™ materials provide engineered strength throughout your design.
Ice Hockey Sticks
Ice hockey sticks were originally made of wood and then later aluminum, until carbon fiber sticks were first developed in the 1990s. The majority of today's hockey sticks are 100% carbon fiber, or made using a hybrid fiber-reinforced resin combining carbon fiber with other materials. Toray's TORAYCA™ carbon fibers contribute to reducing the weight and improving the durability of hockey sticks, to an extent that was not possible with wood or aluminum. The bending and return action of these new hockey sticks, which are flexible while still having the high rigidity characteristic of TORAYCA™ carbon fibers, helps to improve shot speed, contributing to making games even more exciting.
Why TORAY Materials?
We continually invest in product development for the recreational industry, staying on the leading edge of product development. Properties of our materials include:
Thermoformable
Parts are cut from consolidated sheets, heated to about 177°C (350°F) and formed in 6–8 seconds under 10–15 psi.
Resilience
The resilience (spring or responsiveness) effect of our CFRT™ composite materials ensures they return to their original shape through millions of cycles, reducing foot fatigue and injury while enhancing performance.
Design Freedom
Our CFRT™ materials are offered in a variety of fiber types and directions, allowing for different performance properties in each direction. With our CFRT™, a designer has the flexibility to develop a shoe component with different characteristics in both the medial-lateral and longitudinal direction.
Lightweight
Our CFRT™ materials offer superior performance and weight advantages over chopped fiber reinforced or non-reinforced injection molded materials. They provide enhanced stability and support, yet are lightweight and thin enough to minimize weight, reducing athlete fatigue and stress.
Sizeable Carbon Fiber Line-Up
With an industry-leading vast product line-up in terms of mechanical properties and number of filaments, etc., Toray is able to meet customers' needs through its high performance, high quality, and stable supply. Toray has enabled the development of sports equipment suited to a variety of groups, from amateurs to top athletes.
Diverse Resin Line-Up
In addition to thermoplastic resin products such as CFRT™, Toray offers a wide range of thermoset-based resins (epoxy resin) such as TORAYCA™ prepreg. Toray also has a varied product line-up that includes the resin applying nano-level material control technology called NANOALLOY™ with improved dynamic properties, quick-curing resin that improves press-curing production efficiency, high-heat-resistance resin, vibration-absorbing resin, and impact-resistant resin.
NANOALLOY™ technology is an innovative microstructure control technology. We own the basic patent, core process patents and utility patents.
Toray Composite Materials for Sporting Goods Others
Related links of Toray group company (External Pages)