MARKETS
Sporting Goods
Fishing
Fishing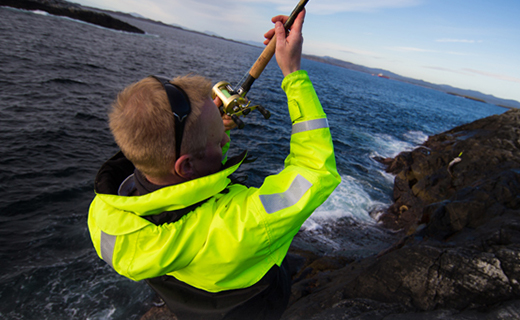 Lightweight and Strong, With Superior Vibration Damping to Better Transmit Fish Bites
The best fishing rods are said to be lightweight, thin, and responsive. This is an application in which priority is placed on high rigidity and light weight. They must be of a size and weight that is easy to handle, highly rigid, easy to cast on target, easy to detect fish bites, and easy to reel them in.
TORAYCA™ carbon fiber is a pioneer in this technology, used in the world's first sweetfish fishing rod, Seiki Ayu, released by OLYMPIC Co., Ltd. in 1972, which is said to have achieved a light weight at only half the length of the previous glass fiber rods at 7.2 m (23.6 ft) in length, and weighing around 600 g (1.3 lb).
Fishing rods using anisotropic uni-directional prepregs were prone to being crushed, due to insufficient circumferential strength. To address this, Toray developed an ultra-thin (approx. 30 μm) TORAYCA™ prepreg as a circumferential reinforcement material to prevent against crushing. As it can now be produced to approximately 10 μm, ultra-thin prepreg has become a very important technology for preventing crushing.
Fishing rods made lighter using TORAYCA™ prepreg:
(1) Can be used one-handed and are easier to handle, due to being lighter and thinner
(2) Are light, so you don't get tired
(3) Widen your fishing area due to the longer pole
(4) Are highly sensitive for better bite detection
(5) Make reeling in fish easier
Thereby improving angler satisfaction each and every year. Today, TORAYCA™ prepreg boasts an industry-leading line-up of fishing rod products developed for all settings, including sea, rivers, and lakes, contributing to developing and revitalizing the industry. In this way, TORAYCA™ carbon fiber has established itself as a revolutionary material that has changed the nature of fishing itself, and to this day continues to support the growth and development of the sport with its consistent quality and high-performance composite characteristics.
Why TORAY Materials?
Toray has a broad range of composite material solutions to suit a diverse range of requirements within the fishing market.
Lightweight
TORAYCA™ carbon fibers push the limit of lightweight design. With their characteristic superior lightness, strength, and rigidity, we started using them for sports and leisure equipment products, and have since branched out to using them in the aerospace field and for general industrial applications.
Sizeable Carbon Fiber Line-Up
With an industry-leading vast product line-up in terms of mechanical properties and number of filaments, etc., Toray is able to meet customers' needs through its high performance, high quality, and stable supply. Can be used in fishing rods in all settings, including seas, rivers, and lakes.
Problem-Solving
Toray is a pioneer in carbon fiber fishing rods. Toray uses its years of expertise and proprietary technology, such as the ultra-thin TORAYCA™ prepreg, to solve issues such as ensuring light weight, reducing diameters, increasing rigidity, and preventing against crushing.
Diverse Resin Line-Up
Not only does the resin matrix (epoxy resin) used in TORAYCA™ prepreg harness the full performance of carbon fiber, Toray also has a product line-up that includes vibration-absorbing resin, the resin applying nano-level material control technology called NANOALLOY™ with improved dynamic properties, quick-curing resin, high-heat-resistance resin, and impact-resistant resin.
NANOALLOY™ technology is an innovative microstructure control technology. We own the basic patent, core process patents and utility patents.
Toray Composite Materials for Fishing
Related links of Toray group company (External Pages)