F1 and Motor Sports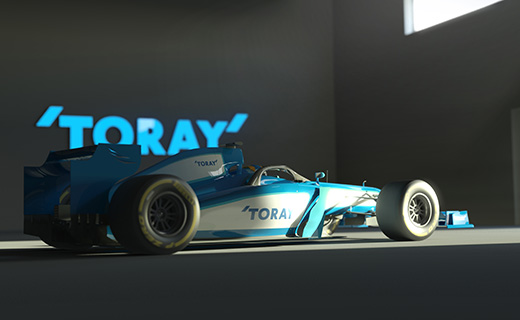 High Performance Composites Without Compromise
We are a proven leader in advanced material technologies for the Formula 1 and high-performance motorsport markets. Trusted for innovation and proven performance, we continually invest in product development, ensuring a full portfolio of lightweight, durable, and high-performance TORAYCA™ carbon fibers, and thermoset composite materials developed specifically for rigorous motorsport applications.
Our TORAYCA™ T1100S fiber has "State of the art" high tensile strength among Toray's intermediate modulus fiber lineup, enabling the best performance in F1 chassis. Coupled with dedicated mechanical testing capabilities, flexible lead times and ready supply, we are your winning partner in high performance motorsport.
Why TORAY Materials?
We have a broad range of composite material solutions to suit a diverse range of requirements within the Formula 1 and high-end motorsport market.
Impact Resistant
The high-energy absorption properties of our composite materials provide a highly optimized, lightweight solution for crash structures. Our composite material portfolio includes Federation Internationale de L'Automobile-approved materials for use within crash impact structures and mechanically demanding structural applications.
Energy Absorbing
Today's F1 race cars must withstand strict standards for impact resistance and energy absorption. Our materials are designed to minimize the effect of crashes on drivers and occupants by absorbing the impact as it slows the vehicle.
Ease of Lamination and Handling
Our prepreg systems for the F1 and automotive racing industry are designed to allow easy lay-up and fast cures for rapid processing and turnaround times.
Bondable to Core
Our prepreg systems are designed to bond to the core using only the matrix resin, thus reducing overall weight while maximizing production and design efficiencies.
Toray Composite Materials for F1 and Motor Sports
NANOALLOY™ technology is an innovative microstructure control technology. We own the basic patent, core process patents and utility patents.
Related links of Toray group company (External Pages)