ABOUT US
Global Operations
Global Operations
We began producing TORAYCA® PAN-based carbon fiber in 1971, and it has since become recognized as the de facto standard for technical excellence and quality for carbon fiber across aerospace, sporting goods, motorsport and industrial applications.
TORAYCA® carbon fiber exhibits exceptional mechanical properties, excellent processability and is available across the globe from a secure and stable supply chain.
Carbon Fiber & Advanced Composites Business in Asia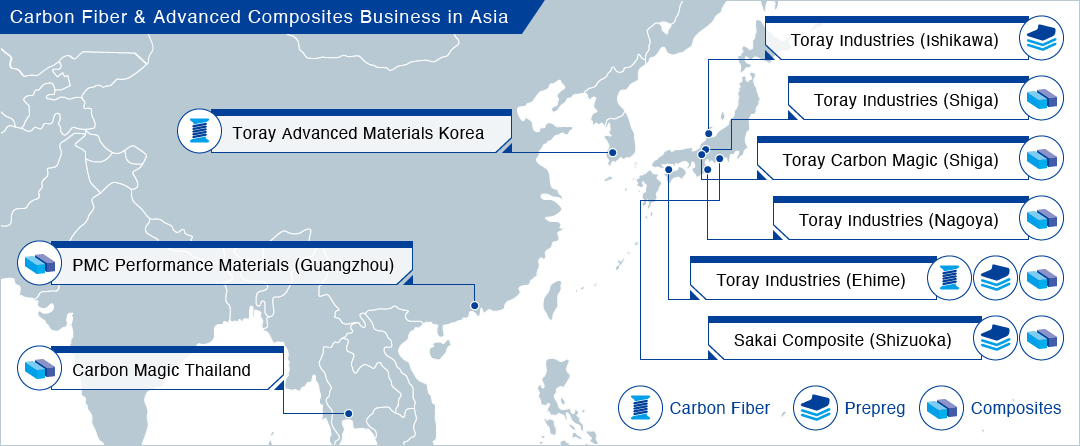 Carbon Fiber & Advanced Composites Business in America/Mexico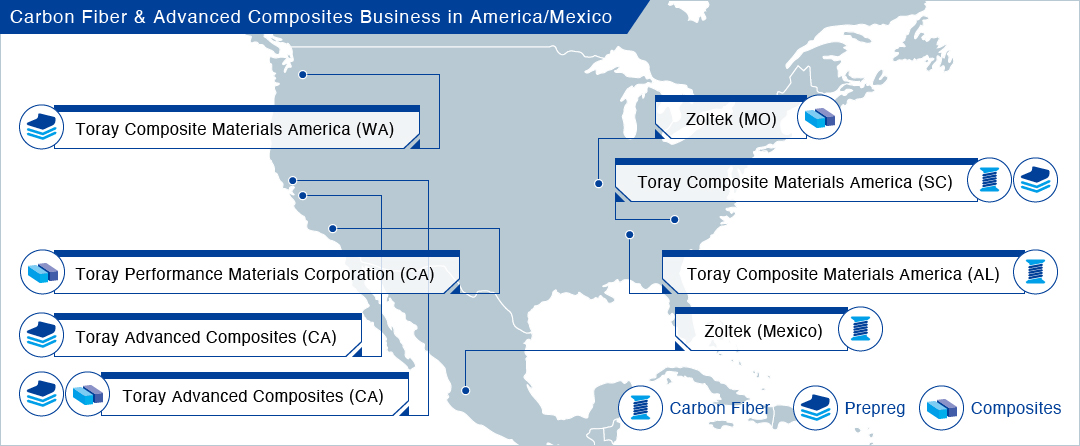 Carbon Fiber & Advanced Composites Business in Europe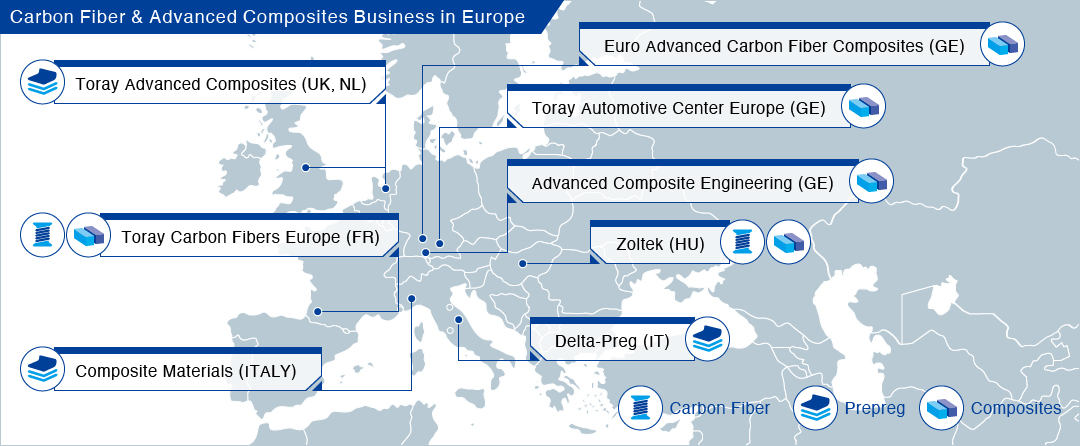 Group Company Business
CMA's Tacoma plant began producing carbon fiber prepregs in 1992 adjacent to Boeing's Composite Manufacturing Center, in order to provide an efficient supply stream of our carbon fiber composite materials for Boeing and other customers in America. First used on the Boeing 777, the prepreg is now incorporated into the 777 and 787 primary structures, and will be used on the new 777X wing. CMA's Decatur plant started precursor and carbon fiber production in 1997, and has a diverse base of customers in the aerospace, defense industrial and automotive industries. CMA's newest plant in Spartanburg will be an integrated facility producing precursor, carbon fiber and prepreg in a single manufacturing facility. This plant will be key to our growth in North America and will address critical supply chain redundancies and diversification.
CFE began producing carbon fiber in 1982 in France and has forged a reputation as the European leader in the carbon fiber market. It provides premium products under the TORAYCA® brand name that were developed to suit the varying needs of aerospace and other industries. The strategy is to continue expanding sales in new and existing markets by working in close partnership with customers as well as Toray Group companies, and keep producing high-quality carbon fiber and composite materials.
TAK produces TORAYCA® carbon fiber in Korea for customers in Asia as well as customers worldwide. The fiber is used for various industrial applications, such as pressure vessels, automobiles, civil engineering works and sports and leisure products. It also closely communicates with Toray Japan and its Asian sales channels to develop new business.
ZOLTEK is a global leader in the production of industrial-grade large-tow carbon fiber and carbon fiber intermediate products for use in wind turbine blades, automotive parts, thermoplastic compounding, offshore drilling, civil engineering, marine works and various other commercial products.
Since 2014, ZOLTEK has been a member of the Toray group and has expanded its production capacity to meet the world's growing demand. It is expected that large-tow carbon fibers will be used more frequently in automobile structures in the future.
Toray Advanced Composites, acquired by Toray in July 2018, is a leader in the development and manufacture of a wide range of thermoset and Toray Cetex® thermoplastic-based advanced composite materials. With 4 manufacturing sites throughout Europe and the US, Toray Advanced Composites supplies a portfolio of prepregs in fabric, unidirectional tape, bulk molded compounds and reinforced thermoplastic laminate formats for use in aerospace, satellite and communication, space, motorsport and high-performance industrial applications. Additionally, Toray AmberTool® tooling prepregs have over 25 years of history in providing composite tooling material solutions.
CIT manufactures woven carbon, special fabrics, multiaxial, prepregs and unidirectional tapes. It also formulates and applies its own resins, mainly epoxy and phenolic, as well as other formulations depending on the designated use and areas of application, such as in industrial, aerospace, automotive, sports and leisure, medical and civil engineering fields. Its approach to composites is both specific and global, translating the customer's specific requirements into a product that satisfies their specific need in the most efficient and effective way. This is made possible thanks to its ability to manage the entire production process. It has testing laboratories, weaving and impregnating equipment, and a staff of specialized engineers who understand the specific applications and customer requests in order to design the most suitable solution, all in-house.
EACC focuses on the processing and manufacturing of carbon fiber as well as glass fiber reinforced plastic parts for the premium automobile sector, using the resin transfer molding and sheet molding compound process. As part of the Toray Group, EACC is a strong partner for the supply of lightweight composite components to the premium European automotive industry. Its A-coat process is an innovation that enables time and cost savings in the painting of visible components while improving their appearance. It uses an additional tool and fills the component with a special resin, producing a wonderfully smooth surface that only needs to be painted once more.
DELTA-PREG is a prepreg manufacturer, whose unique products are developed and engineered by parent company DELTA-TECH. Both companies have been members of the Toray Group since 2015. DELTA is highly rated for its strongly customer-oriented and responsive attitude, offering the composite market an extensive portfolio of prepregs as well as on-site technical support. Mechanical characterizations from its internal testing facilities are also available upon customer request, while internal R&D constantly works to meet new market requirements. Its prepregs are widely used in the high-end automotive industries globally, as well as in racing cars and bikes, sports and leisure and the industrial sector.
TCM is an expert in utilizing weight-reducing designs and technologies and carbon fiber reinforced plastic molding and processing technologies that have been cultivated through years of race car development. These dramatically improve the performance of various parts and structures across a range of industries, including automobiles, motorcycles, aircraft, aerospace, drones, railways, industrial equipment, medical equipment and sports. This is possible thanks to TCM's expertise in design, analyses, trial production and mass production of precision and complicated parts and large structures. Its products are developed, designed and prototyped in Japan and mass-produced at its subsidiary in Thailand, Carbon Magic Thailand, with optimized processes and cutting-edge equipment.
TORAY PMC, a subsidiary of Toray Advanced Composites, produces components from thermoplastic composite materials. Its Toray CFRT® composites have unique attributes, and when used strategically, can reduce weight significantly while increasing stability, strength and resiliency. They are tunable from one end of the component to the other. Toray PMC works with its customers to design custom parts that are truly engineered. It provides engineering services related to design, development, analysis and production of components from continuous fiber reinforced thermoplastic composites. Its focus is on performance, cost, aesthetics, quality and manufacturability.